No instruments? No problem! Making your own music is a breeze with these fun websites!
Hello again, Danielle here to show you just how easy it is for you and your loved ones of all ages to create your own music using these five interactive websites—NO downloads or instruments required and all 100% FREE to use! All you'll need is some kind of electronic device that can access the internet (preferably a laptop or something with a larger screen display so that it's easier to see and manipulate) and a little bit of creativity. Below I've highlighted each of the five websites with a short description of how to interact with each site, a screenshot of the page, and of course, a link to each one in the title. In the comments at the end of the post, please feel free to share which website you and your loved ones enjoyed the most, as well as any recommendations for other interactive music sites!
1. Blob Opera – created by
David Li in collaboration with Google Arts and Culture
Let your inner choir director reign in Blob Opera as you control four colorful "blobs" by simply clicking with your mouse or touching on your screen one blob at a time to drag the notes up or down! To change the vowel sounds that a blob sings, you can drag the blob left or right to switch between a, e, i, o, and u sounds. Thanks to machine learning built into the site, the other blobs will automatically harmonize the notes that they sing, even as you switch between different notes and sounds. On the bottom left side of the screen is a red record button you can press to record and share your song, while on the bottom right side there is a tree icon which, once pressed, transforms the blobs into a holiday choir (complete with cute red hats!) with options to listen to some pre-recorded holiday tunes. So, are you ready to get your opera on?! Let us know how much fun you had exploring this website by dropping a comment at the end of the blog post (and you can even share your recording link if you'd like)!
2. Incredibox – developed and published by So Far, So Good
If beatboxing is more your style, check out Incredibox which is a fantastic, easy-to-use site that allows you to pick a musical style and customize up to 7 beatboxers at a time by simply clicking and dragging sound icons (in the form of different clothing pieces/accessories) onto each one. The website version which is linked here is free to use; in addition, Incredibox is available as a paid app in both the Android and Apple stores. Clicking the top left menu button (represented by three horizontal lines) opens up options to reset all the beatboxers, let the app customize all of the sounds for you, or record and save your beats in a playlist. How did your beatboxing masterpiece sound? Let us know how easy and fun it was to make in the comments section!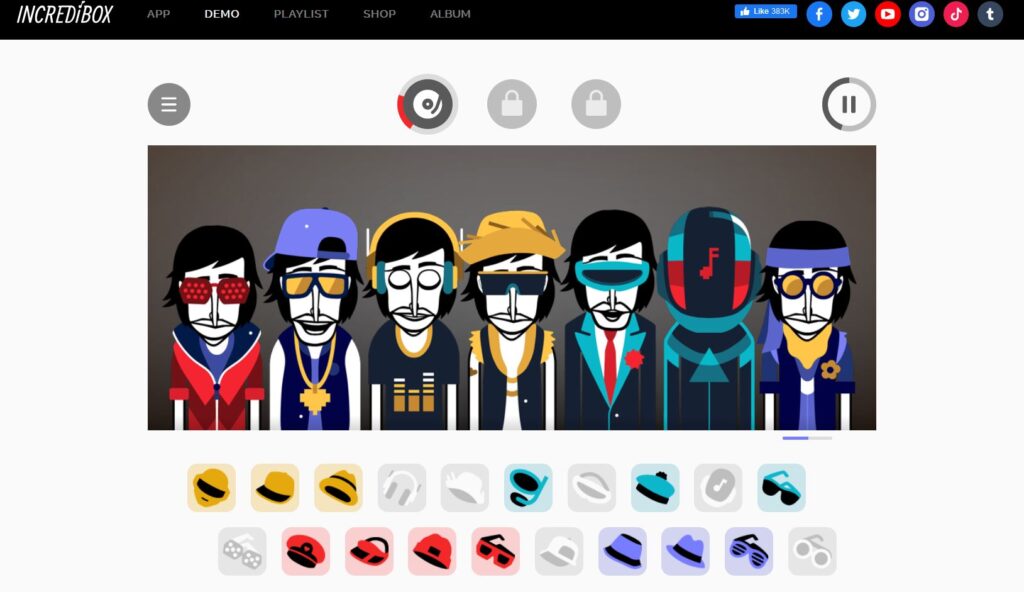 3. Groove Pizza – created by NYU Music Experience Design Lab
It's time to dig into your favorite pizza, musically speaking! At first glance, navigating around Groove Pizza may seem a bit overwhelming, but making your musical pizza is actually quite simple. Pick a preset from the "specials" menu on the left hand side (e.g., "jazz swing," "rock you," "trap"), and then add all your "toppings" on the main circle on the screen by clicking to adjust the beats. You can also pick shapes from the "shapes" menu on the left and drag them onto your circle to explore how the math concepts of shapes, angles, and patterns sound on your musical pizza. In the "share" menu, there are several options to show off your groovy tunes such as sharing to Twitter and Facebook, downloading as an audio file or as a MIDI file, and continuing to edit in apps like Noteflight and Soundtrap. Finally, in the very bottom left corner of the screen, you can adjust the volume, change the speed by adjusting the BPM (beats per minute), add a bit of jazz flavor by adjusting the "swing" setting, and change the total number of "slices" to your pizza which ultimately change the way the beats are arranged. Share your favorite Groove Pizza in the comment section below!
No musical skills required for Launchpad Arcade (or any of the other websites in this list, too)! Making some sick beats is easy as pointing and clicking on any of the pads to get started. Some things to note: the pads on the last two, far right columns (the light blue "vocal" and "FX" columns) only make sounds for as long as you click/hold down on them. The pads on the first six columns will play continuously on an automatic loop once clicked; however, you can only have one pad playing per column in those first six columns. You can change the pads at any time and they will be immediately incorporated into the song. Finally, the website loads automatically onto the "Viral Hiphop" style, but you can change the style at any time by clicking on a different option on the right side of the page. What's your favorite style? Let us know in the comments at the end!
5. Song Maker from Chrome Music Lab – created by Google Creative Lab
Chrome Music Lab has a wonderful variety of interactive music and sound based activities which I could spend an entire blog post on all by itself, but today I want to share with you my favorite one: Song Maker! When you first open the webpage, you're greeted with blank grid and a few controls at the bottom. Clicking on any of the squares on the grid places a colored note in that space (any note placed in that exact row will sound the same and have the same color). Notes placed in the same column will play at the same time just like a chord. To place several notes quickly, you can click and drag all over the screen; watch as your previously blank canvas comes to life in an explosion of color and sound! The bottom two rows on the grid serve as the percussion instruments; any notes placed in those rows will play those instruments. And speaking of instruments, you can change them at any time by clicking on the controls in the bottom left corner. Once you have all your notes placed and are ready to hear your masterpiece, simply press the big "play" button in the far left corner and your music will play from left to right. To adjust the speed or tempo of the piece, slide the tempo bar at the bottom. Sharing your song is as easy as clicking "save" in the bottom right corner, and then you have the option of copying your unique song link or downloading the file. Song Maker is so simple and so much fun to use. Feel free to share your work of musical art in the comments below!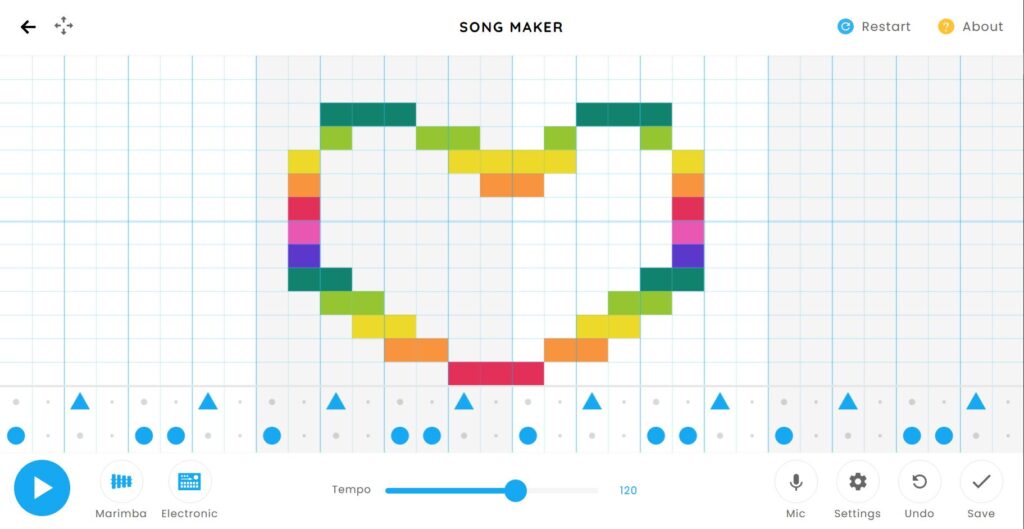 Hopefully I've shown you and your loved ones a few easy ways to make music online, and in the comments section below, I would love to hear which website you enjoyed the most, as well as any recommendations you may have for similar music making sites! Thanks so much for joining me this week and here's to a new month of discovering fun sounds and creating awesome tunes!