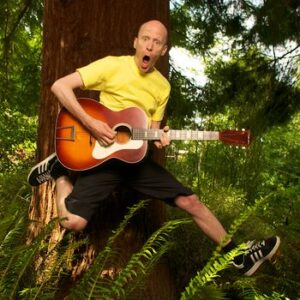 This Seattle-based musician (formally known as Chris Ballew) used to be lead singer of an alternative rock group called Presidents of the United States of America.  After being nominated for two Grammys, Ballew turned to children's music under the awesome stage name Caspar Babypants!
Sensorimotor Ideas:
One of Caspar's most popular songs is "Run, Baby, Run."  This song can be used to practice one-step directions and/or sustained attention by requiring clients to act out the movements in the lyrics (run, jump, swing, etc.).  If the client needs sensory regulation, the music therapist could choose movements that provide alerting, organizing, or calming sensory stimuli (you can find some great, play-based sensory integration activities for home, school, or therapy settings here).  The simple language in the song lends itself well to clients with limited receptive language skills, especially when you replace the word "baby" with the client's name.
Speech and Language Ideas:
In his lyrics, Caspar often uses alliterations such as"More Moles," "Drowsy Dopey Dozy Dog," and "Jellyfish Jones."  These songs provide opportunities for clients to fill in blanks of CVC words (such as dog) and/or blend words (such as drowsy).  Practicing tongue twisters like "drowsy dopey dozy dog" can be especially useful for children who reliably produce target sounds at the single word level but struggle with longer phrases.
"Everything Has a Song" also provides many opportunities to practice speech sounds listed in the client's goals.  For example, clients working on producing /b/ can sing about cars that go "beep" or bees that go "buzz."
I hope this post inspires you to add Caspar Babypants to your repertoire!
Please share your favorite obscure or underrated children's artists in the comments section below!